Do you know how much water you use when you take a bath or brush your teeth?  Every month the water bill comes, and I am sure that we all know how much that bill was last month.  However, do you know how many gallons of water you used?  In developed countries, such as the US, we take for granted that water will run from any faucet at any time.  And that water will be clean and drinkable.  But shouldn't we be more conscious of the reality of that resource? And therefore be more cautious!
The World Economic Forum announced about a year ago that the water crisis is the number one global risk.  As a result, everyone needs to be more careful with that resource.  We all need to remember that water is not as renewable as we think.  As an example of the seriousness of the matter, the extreme drought in California last summer that led to farmers not being able to water their fields and household that could not water their yards or fill up their pools.  We are all responsible and all effort counts to reduce our water consumption.
The awareness has grown dramatically in the past years in many Industries and especially in the Textile Industry since it is the world's second largest polluter of clean drinking water.  To put in perspective the impact of the Textile Industry on water resources, let's look at a few numbers! It takes about 20 gallons to dye one pound of fabric and the Textile Industry dyes about 66 billion pounds of fabric per year.  That is a total of 1,320 billion gallons of water per year just for the dyeing steps.
Accordingly, the Industry has been very pro-active to become more sustainable and find ways to develop green dyeing processes.  We are seeing two main roads in that difficult journey.  The first one is radical and calls for waterless processes: supercritical carbon dioxide dyeing, dye transfer.  This path is very expensive for dyers to take because it involves major investments in new equipment and training in their work force to be able to produce the same quality with the technology they are not familiar with.  The second road is to have a low water dyeing process.  By using chemicals that are more efficient and more specific to their process, mills can decrease their water consumption by a factor of 2 or even 3.
NICCA is introducing its WaterSmartTM system this year.  This system is composed of 4 chemicals that used together throughout the traditional dyeing process result in 75% water savings and 40% cycle time savings without any adverse effect on quality or cost.

For an easier understanding of the impact of WaterSmartTM on water consumption, the schematic below shows how much water is needed to dye a running shirt with the traditional dyeing process, 5.5L and how much water is needed to dye the same running shirt with WaterSmartTM, 1.25L.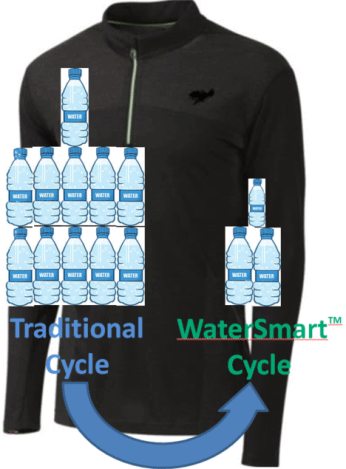 Another advantage of WaterSmartTM is that there is no needed to invest in new and expensive equipment since these 4 chemistries are compatible with current dye machines.
In addition, the WaterSmartTM chemistries are bluesignâ approved which means that the chemical agents were produced with environmentally friendly ingredients and environmentally conscience methods. Using the WaterSmartTM system is a cost effective way to produce sustainable fabric.
So, for our Planet to stay blue, let's all take little steps.  Close the faucet while you brush your teeth!  Do not worry about yellow grass in your yard!  And look for cloth with green dyeing and sustainable labels!